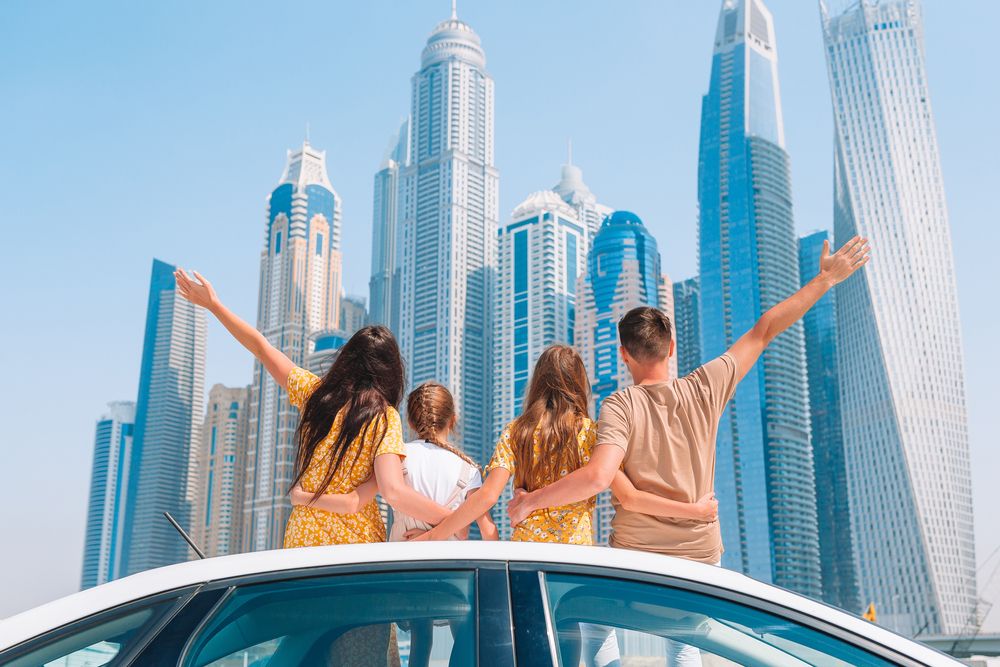 Dubai for Kids: Recreation and Entertainment
What can be made of oil? Fuel oil, kerosene, diesel fuel? Not only. On the huge profits from this natural wealth it is possible to build Dubai in the bare desert – a modern megalopolis with skyscrapers, shopping and entertainment centers, parks and gardens, which combine fabulous luxury and comfort.
Today Dubai is the most highly developed tourist center in the Middle East. There are a lot of hotels, excellent infrastructure and a wide range of entertainment, including for those who travel with children.
Holiday in Dubai with children
I must say that in the UAE, much attention is paid to children. For them, they build special science centers and museums, where the younger generation is inculcated with love not only to their culture and traditions, but also to other spheres of life. A huge number of centers have been created for young citizens, where they learn and spend their leisure time.
Your kids will love it too. You can fly to Dubai during winter vacations – it's high season there in winter when the weather conditions are the most favorable.
So, where to go in Dubai with the kids? We will tell you about the most interesting places.
Wild Wadi Water Park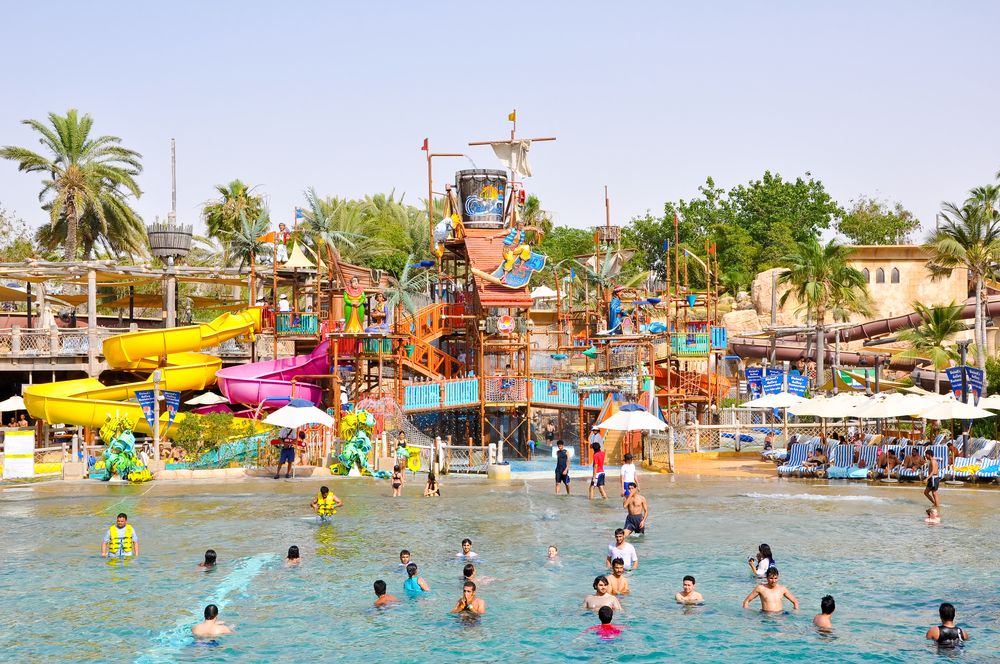 Wild Waldi water park slides
In a picturesque setting at the foot of the Wadi River. Kids can try their hand at surfing pools, go on water slides. There are water areas for kids. Young travelers love to explore Sinbad's ship, which also has slides, fountains, swings, and small waterfalls. Kids can't get cold feet at water fun as the water temperature remains at 28°C (68°F) everywhere.
While the kids are having fun, the adults can get their adrenaline fix on a 33-meter free-fall slide. The park has 24 rides of varying difficulty levels to suit all tastes. You can spend a whole day here, and then come back again.
Aquaventure Waterpark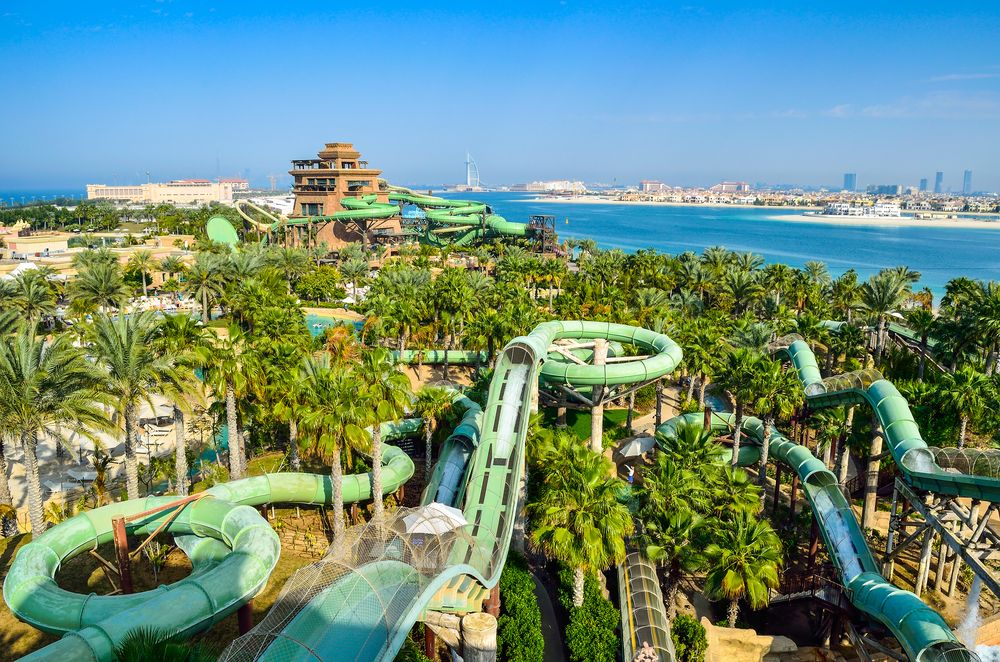 The largest water park Aquaventure
It is the largest water park in the Middle East. A whole day would not be enough to get around all the rides and attractions without trying them. There's a man-made river, beautiful beaches, speedslide, children's playground with rides, slides and suspension bridges.
After the rides and hikes, you can relax on a paradisiacal beach, under the shade of palm trees and lush tropical plants.
Dolphin Bay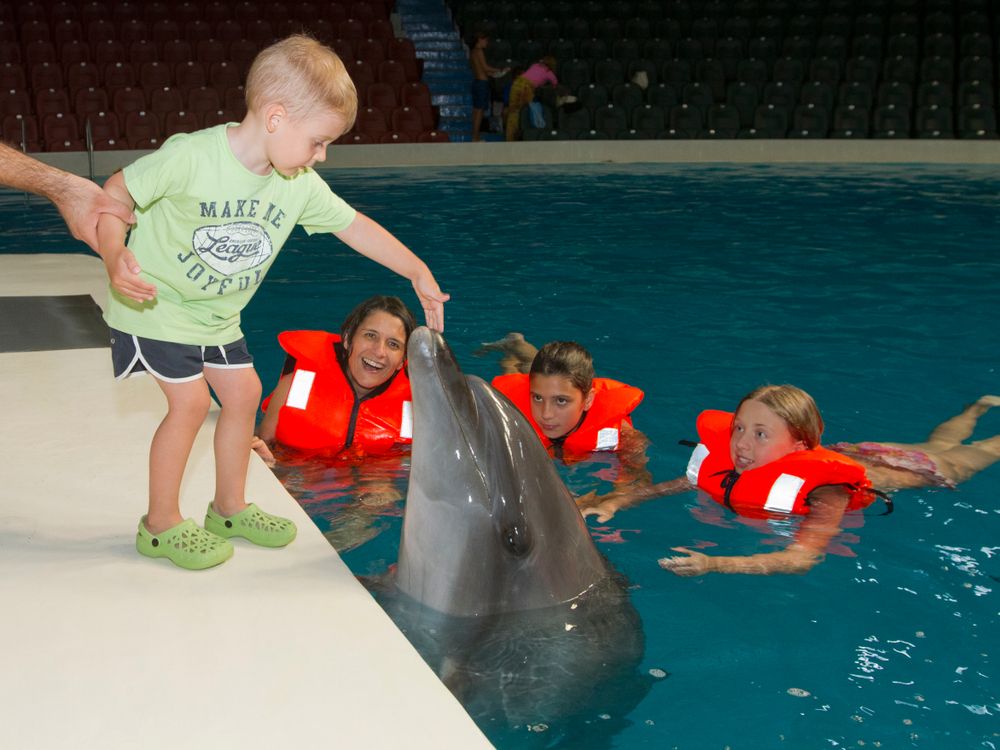 Kids can get in touch with the dolphins at Dolphin Bay
In Dubai, there are many buildings and complexes that surpass all the world analogues on the grandeur. Dolphin Bay is one of them. The world's largest dolphinarium. A bay was built for it, and the entire structure is a single complex of 7 pools with a total area of 4.5 hectares.
Younger visitors are offered 5 types of contact with dolphins. Kids can play ball with them in the shallow water, younger students can swim, and teenagers are offered a more sophisticated way to interact with these marine animals. Kids who can't swim or are scared of water will get a chance to get up close and personal with dolphins on shore.
The Lost Chambers Museum of the underwater world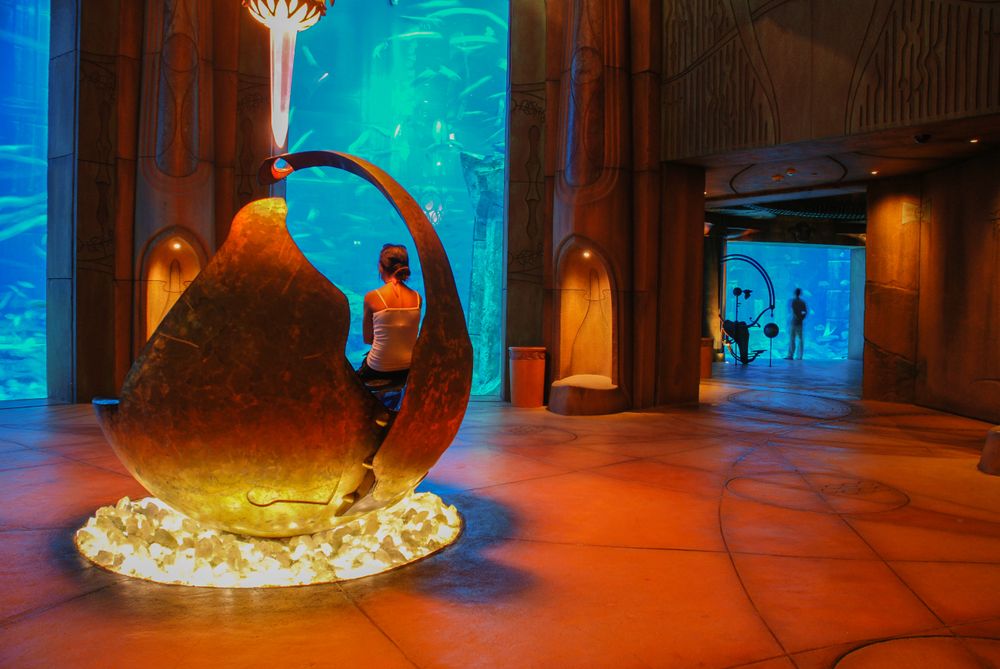 The Lost Chambers is an incredible underwater museum in Dubai
If you like watching fish, you'll see lots of interesting things in this museum. Not only can you enjoy watching the sea creatures (the museum has about 65,000 of them), but you can also take part in excursions and shows that are often held.
The program includes a visit to the ruins of sunken Atlantis, walk its labyrinths. There is a contact aquarium that allows you to touch some of the marine life with your hand.
Kids Town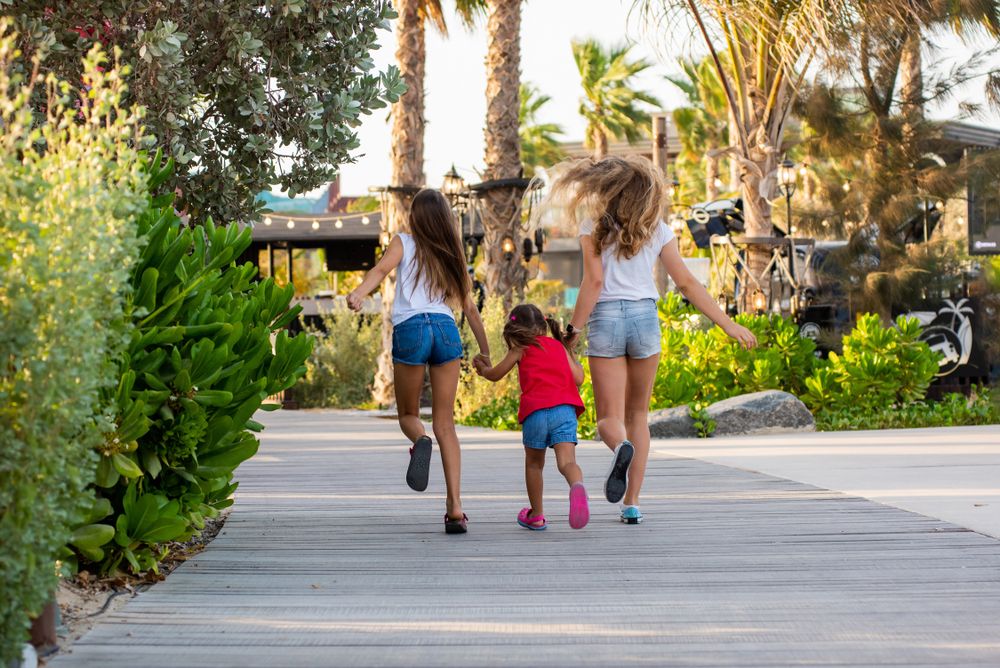 Dubai has built a city for kids
A true children's science center that teaches kids about serious things in an entertaining way. Maybe your child conceals a future scientist? In this center it will be interesting to both kids and teenagers. Open exhibitions on arts and crafts, Middle Eastern culture, the structure of the human body, and outer space.
If younger children find it tiresome, they can play with the balloons in the special play area. Enjoy a trip to the planetarium and stargazing. Worth your attention and the theater, the actors which are also children.
Kidzania Children's Land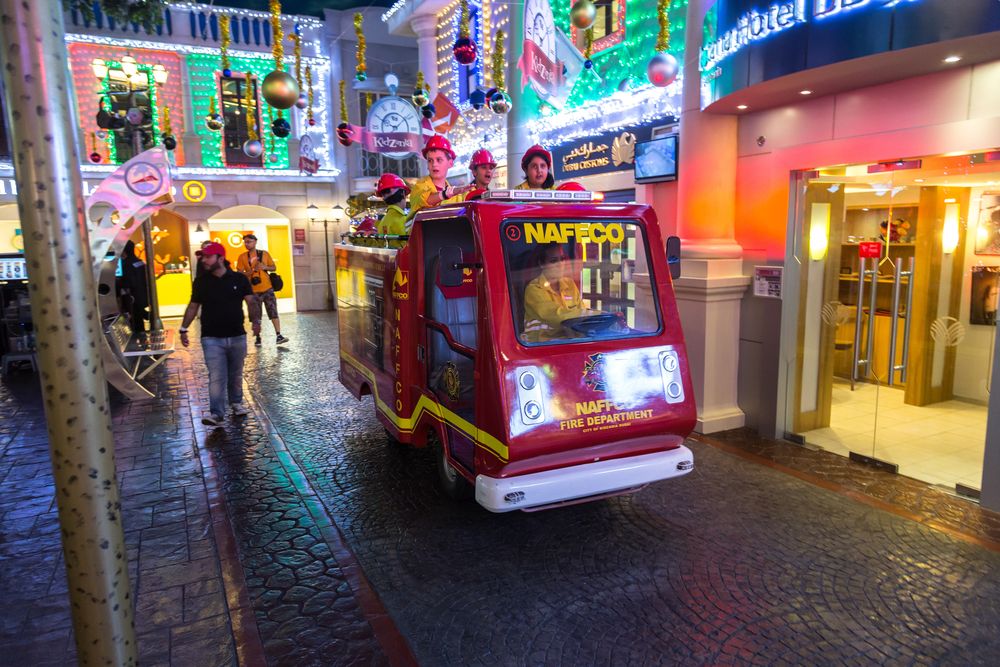 Kidzania, a place where kids can try out different professions
This magical park city is designed just for kids. It is located on the second floor of Dubai Mall. Many children dream of becoming adults as soon as possible. At Kidzania they can experience it now.Adult-inspired: Businesses, banks, beauty shops, and auto repair shops.
Every child in this wonderful country can get a job as a journalist, policeman, nurse, actor, DJ (more than 70 professions to choose from). Earn your own money, then spend it.
No kids allowed. Adults can only enter Kidzania with their child in charge. In this way, in a playful way, dads and moms can tell children how adult life works.
Burj Khalifa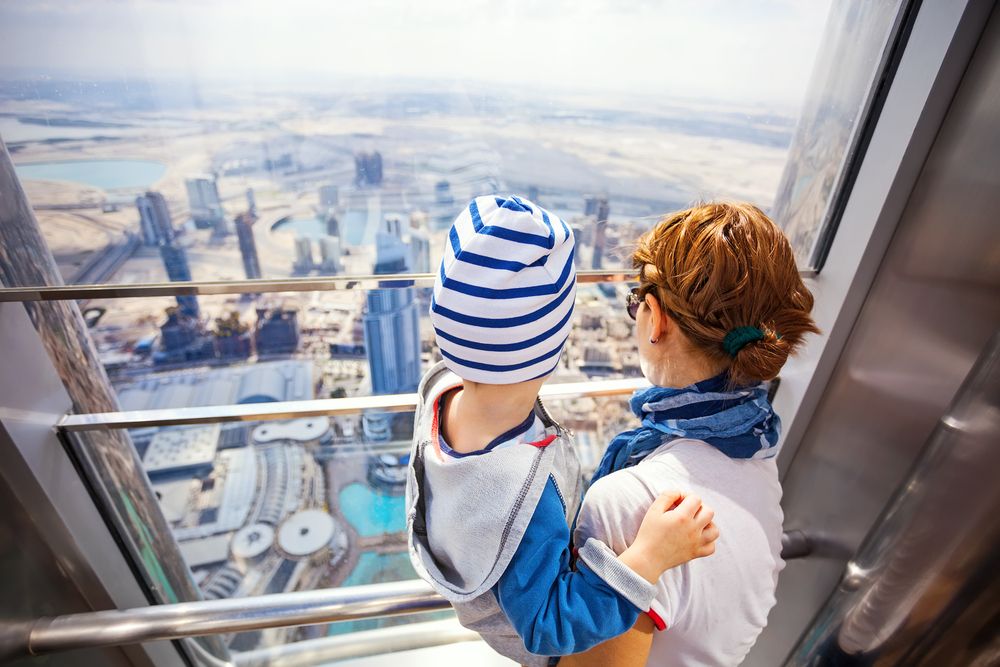 The panoramic view of Dubai is also interesting for little travelers
This building is the tallest structure not only in Dubai, but also in the world. It rises as an arrow towards the clouds, its highest point being 828 metres. It has 2 observation decks. One of them is on the 124th floor, and the other is on the 162nd. Both you and the kids will enjoy a view of the city from such a dizzying height. For a full experience, we advise to visit it twice: during the day and in the evening. Evening lights and special illumination give the metropolis a stunning view.
And a few more words. If you're visiting Dubai with kids, be sure to check out all the places worth seeing before you arrive. In fact, there are many more than described in this article. Remember that in the Arab Emirates, even in winter, it's very hot and children should be protected from the sun. That's why for a quick trip, if possible, it's better to use a cab or other form of transportation. Don't forget to wear light hats and drink refreshments. It's air conditioned and you don't want to stand too close to it, otherwise you might catch cold.